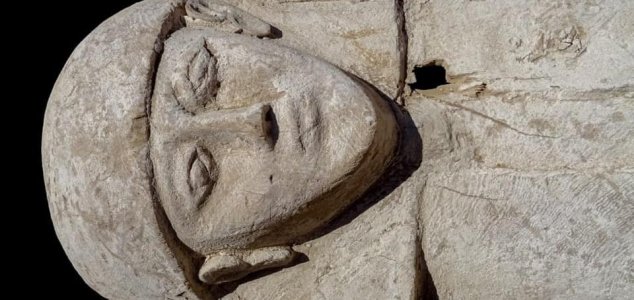 The lid of the sarcophagus.

Image Credit: Facebook / Ministry of Tourism and Antiquities
Archaeologists have unearthed the mummy of a 17th-dynasty teenager in the Egyptian city of Luxor.
Announced by the Egyptian Ministry of Tourism and Antiquities, the discovery was made by a team of Spanish and Egyptian archaeologists in the Draa Abul Naga necropolis on Luxor's West Bank.
Thought to be approximately 15 or 16 years of age, the girl lived during the 17th dynasty (1,600 BC) and was found next to the tomb of General Djehuty who served under king Thutmose III.
What makes the discovery particularly interesting is the quantity of jewellery that the mummy was adorned with, including rings, necklaces and earrings that have since been meticulously restored.
One of the rings was made from bone, while the other was metal with a blue bead embedded in it.
The four necklaces - each draped around the girl's neck - were tied together with a ceramic clip and included one made with beads and blue faience, one with beads and green faience, one with a wide variety of precious gemstones and the other with several strings of faience beads.
The tomb also held a miniature mud coffin containing a wooden funerary figurine, as well as a pair of leather sandals exhibiting a particularly impressive level of preservation.
Exactly who the girl was, however, as well as how she became so wealthy so young, remains unclear.
Source: Live Science | Comments (0)
Similar stories based on this topic:
Tags: Egypt, Mummy