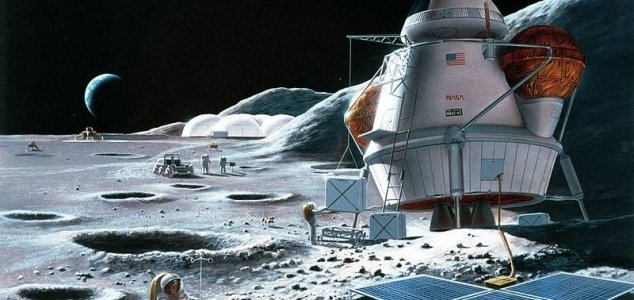 The Artemis Accords will help nations work together in space.

Image Credit: NASA/SAIC/Pat Rawlings
The space agency is aiming to establish principles of peaceful co-operation with its international partners.
With NASA currently working towards landing humans on the Moon for the first time in almost 50 years, establishing solid relationships with its partners worldwide has never been so important.
To this end, it is has today announced the creation of the Artemis Accords - a series of bilateral agreements with other space agencies designed to encourage adoption of its core principles.
"We don't want to only carry astronauts to the Moon, we want to carry our values forward," said NASA associate administrator Mike Gold.
"We want to use the excitement around Artemis to incentivize partners to adopt these principles that we believe will lead to a more peaceful, transparent, safe and secure future in space - not only for NASA and the international partners we're working with, but the entire world."
The Artemis Accords reflect the principles and agreements already seen as part of the construction and running of the International Space Station, while also introducing a few new ones.
The list includes bolstering peaceful co-operation between nations, encouraging transparency and interoperability, offering assistance to astronauts of other nations, releasing scientific data, protecting sites of national significance (such as the Apollo landing sites) and avoiding future conflicts.
"This is based on our values and our own behaviors, but it's also grounded in the Outer Space Treaty," NASA deputy administrator Jim Morhard told
Ars Technica
.
"Hopefully you've seen it in our own actions in how we comport ourselves at NASA. We intend to continue acting the same way we have. Our hope is that we'll have new international partners, and current ones that will adopt those same values if they haven't already."
Source: Ars Technica | Comments (5)
Tags: Artemis