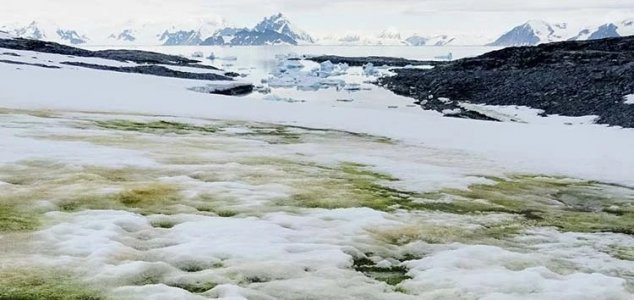 The pristine ice is turning a distinctive shade of green.

Image Credit: Matt Davey, Andrew Gray et al.
The effects of climate change have sparked a bloom of microscopic algae across the Antarctic peninsula.
If there's one color that nobody ever associates with Antarctica, it's green, however that could soon be set to change thanks to one of the lesser-known consequences of global warming.
In a new study, British scientists have created the first ever large-scale map of green algae that is becoming increasingly prevalent in Antarctica as a result of rising global temperatures.
The algae, which in some places is so dense that it has turned the ice green, was tracked using a combination of satellite imagery and ground-based observations.
"This is a significant advance in our understanding of land-based life on Antarctica, and how it might change in the coming years as the climate warms," said study co-author Dr. Matt Davey.
"Snow algae are a key component of the continent's ability to capture carbon dioxide from the atmosphere through photosynthesis."
The study identified 1,679 separate blooms covering 1.9 square kilometers with most of it concentrated on Antarctica's smaller, low-lying islands.
Further south, where the temperatures are colder, the algae was far less prevalent.
"I think we will get more large blooms in the future," said lead study author Andrew Gray.
"Before we know whether this has a significant impact on carbon budgets or bio albedo, we need to run the numbers."
Source: The Guardian | Comments (11)
Similar stories based on this topic:
Tags: Antarctica, Algae