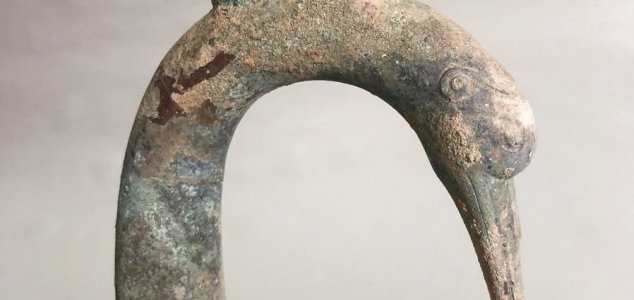 The pot has a distinctive design.

Image Credit: Twitter / Xinhua / Sanmenxia Archaeology
Archaeologists in China have discovered a strange brown liquid inside an ancient pot shaped like a swan.
The elaborately crafted vessel, which has a long top piece shaped like the neck of a swan, was unearthed alongside a number of other artefacts in a tomb in central China's Henan Province.
A total of 3,000ml of the mysterious yellowish-brown liquid was extracted from the pot, however researchers will have to await a chemical analysis to determine exactly what it could be.
The pot, along with a bronze helmet, a bronze basin and a number of iron and jade swords, were discovered during an urban regeneration project in the city of Sanmenxia. The artefacts would have been buried alongside the deceased as part of the funerary practices of the time.
It is believed that the tomb dates back to between 200 BC and 200 AD.
The pot in particular has intrigued researchers due to its unique design.
"The design resembles that of a mute swan," said senior veterinarian Gao Ruyi who was tasked with identifying the specific species upon which the pot's shape was based.
The design suggests that its creators must have observed the birds close-up.
"We can boldly estimate that swans may have appeared in Sanmenxia during the late Qin and early Han dynasties," said Zhu Xiaodong of Sanmenxia's institute of cultural relics and archaeology.
Source: China.org.cn | Comments (9)
Similar stories based on this topic:
Tags: China