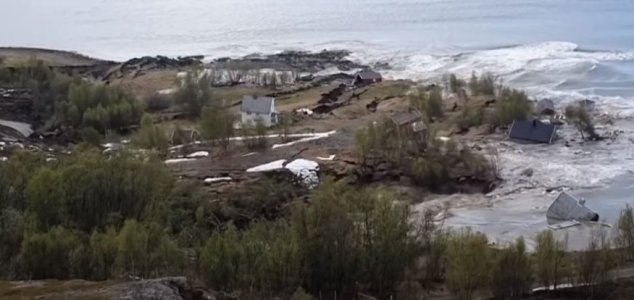 Several buildings were totally destroyed.

Image Credit: Jan Egil Bakkeby
Video footage shows the moment a huge landslide caused several houses to be swept into the ocean.
Serving as a stark reminder of the dangers of constructing houses too close to the sea, this devastating event, which occurred in Norway's Alta municipality, saw a chunk of land 2,100ft across being swept into the ocean, carrying a number of cabins and holiday homes along for the ride.
Some of the buildings managed to remain intact, at least initially, as the waves tossed them around.
Fortunately nobody was present at the time, however a dog that had been in the area of the landslide was reportedly swept out to sea before being picked up by the crew of a rescue helicopter.
It remains unclear exactly what caused the landslide to occur.
"In this municipality, a landslide has not happened in 50 or 60 years, and there has never been one this size," said senior engineer Anders Bjordal who was involved in the rescue effort.
The footage was recorded by Jan Egil Bakkeby who had narrowly managed to escape one of the cabins before it was swept into the waves.
"I had just made two slices of bread when I heard it crack in the cabin," he said. "At first I thought there was someone in the loft, but then I saw out of the window that the power cord was smoking."
The area has since been closed to the public while an investigation is carried out.
Source: New York Times | Comments (8)
Tags: Landslide