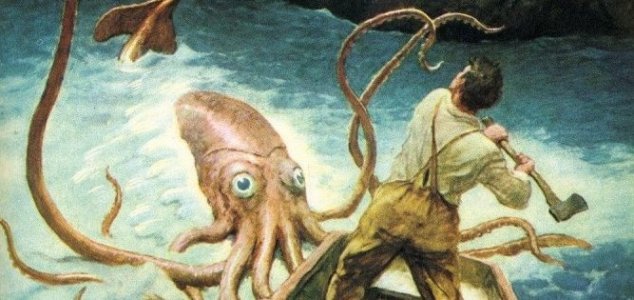 Giant squid have been the subject of stories for years.

Image Credit: Free Library of Philadelphia
An oceanic whitetip shark was recently found with scarring consistent with a fight with a giant cephalopod.
One of the largest and most elusive denizens of the deep, the giant squid, which can grow up to a whopping 43ft long, is usually only seen when dead specimens wash up on beaches.
Sometimes however, evidence of these gargantuan cephalopods can be indirectly seen on other sea creatures - scars and marks that show the telltale signs of an ill-fated deep-sea tussle.
This latest example - an oceanic whitetip shark spotted off the coast of Hawaii - was recently captured on camera by undersea photographer Deron Verbeck.
Growing up to 7ft long, the shark itself is certainly no minnow, however the presence of extensive scarring along its flank - complete with circular sucker-like patterns - indicates that at some point it engaged in a deadly battle with a large tentecled creature that was more than a match for it.
According to a new study, there are very few creatures in the region capable of leaving such marks and they are all varieties of large squid.
Given the elusiveness of these huge cephalopods however, little is actually known about them - their habitat is deep down in the darkest depths of the ocean where mankind has seldom ventured.
The oceanic whitetip shark, however, is known to dive down to such depths on occasion.
Source: Live Science | Comments (4)
Similar stories based on this topic:
Tags: Giant Squid