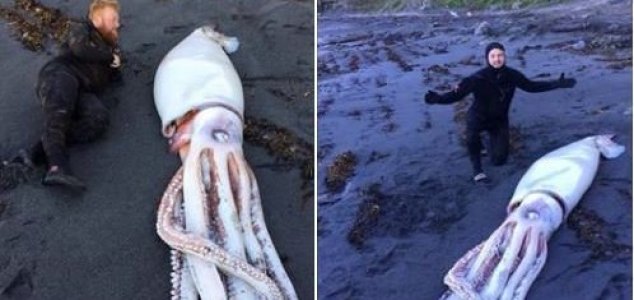 Image Credit: OCEAN HUNTER Spearfishing and Freediving Specialists / Facebook / Daniel Aplin
A huge squid measuring 4.2 meters long has been discovered washed up on the Wellington coastline.
Despite its large size, the giant squid is a species that has long remained highly elusive.
A solitary animal that lives deep down in the depths of the ocean where it is rarely encountered, these gigantic sea creatures eke out an existence that scientists know very little about.
Finding one washed up on the shoreline, therefore, is typically the best way to see one up close.
Brothers Daniel, Jack and Matthew Aplin had been out for a drive along Wellington's south coast recently when they came across the body of a huge squid sprawled out on the sand.
"My brother said 'what's that over there?' and pointed it out," said Daniel. "It was right next to the track so we pulled over and we were like: 'It's a big squid!'."
"[Later] we went back to it and got a tape measure out and it measured 4.2 meters long."
Source: New Zealand Herald | Comments (12)
Similar stories based on this topic:
Tags: Giant Squid