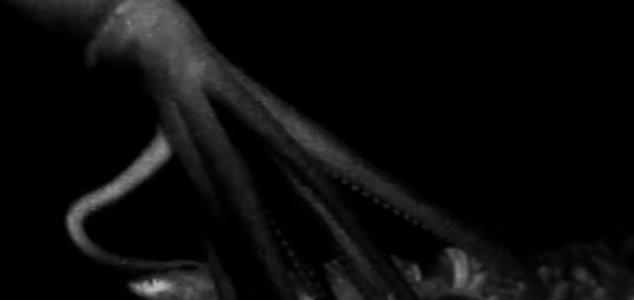 This is one enormous cephalopod.

Image Credit: YouTube / ScienceAlert
For the first time, scientists have filmed a giant squid feeding in its natural habitat in the depths of the ocean.
One of the largest and most elusive denizens of the deep, the giant squid, which can grow up to a whopping 43ft long, is usually only seen when dead specimens wash up on beaches.
Capturing footage of a live one, therefore, has long posed something of a challenge.
Now though, a research team headed up by Nathan Robinson of the Oceanographic Foundation in Spain has succeeded in capturing the first ever footage of a giant squid on the hunt.
To achieve this, they set up a special deep-sea platform with a camera and a fake jellyfish which was itself equipped with lights to mimic the natural bioluminescence emitted by resident species.
Over time, the camera picked up a number of smaller squid species, but then one day an actual giant squid with a mantle length of 1.7 meters (excluding the tentacles) showed up.
The huge creature spent several minutes swimming around, surveying the platform before deciding to come in for the kill. This suggests that giant squid may stalk their prey before attacking it.
Previously, they were believed to be ambush predators.
"We recommend that future studies assess the value of using low-light systems or optical lures in a more scientifically-robust manner," the team wrote.
You can check out the footage they captured below.
Source: Science Alert | Comments (8)
Similar stories based on this topic:
Tags: Giant Squid