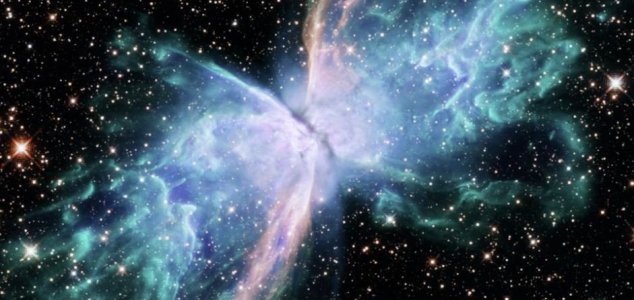 The Butterfly Nebula.

Image Credit: NASA, ESA and J. Kastner (RIT)
Newly released images show the breathtaking beauty of two relatively nearby planetary nebulae.
Captured using the Hubble Space Telescope's Wide Field Camera 3, the images show huge swirls and jets of hot gas that have formed incredible shapes and colors against the blackness of space.
"When I looked in the Hubble archive and realized no one had observed these nebulas with Hubble's Wide Field Camera 3 across its full wavelength range, I was floored," said study leader Joel Kastner of Rochester Institute of Technology, Rochester, New York.
"These new multi-wavelength Hubble observations provide the most comprehensive view to date of both of these spectacular nebulas."
"As I was downloading the resulting images, I felt like a kid in a candy store."
Both nebulae have received nicknames based on their unique shapes, with NGC 6302 being dubbed the 'Butterfly Nebula', and NGC 7027 being dubbed the 'Jewel Bug' Nebula.
It is suspected that both are (or were) binary star systems.
"The suspected companion stars in NGC 6302 and NGC 7027 haven't been directly detected because they are next to, or perhaps have already been swallowed by, larger red giant stars, a type of star that is hundreds to thousands of times brighter than the Sun," said astronomer Bruce Balick.
"The hypothesis of merging stars seems the best and simplest explanation for the features seen in the most active and symmetric planetary nebulas. It's a powerful unifying concept, so far without rival."
Source: NASA.gov | Comments (4)
Tags: Nebula