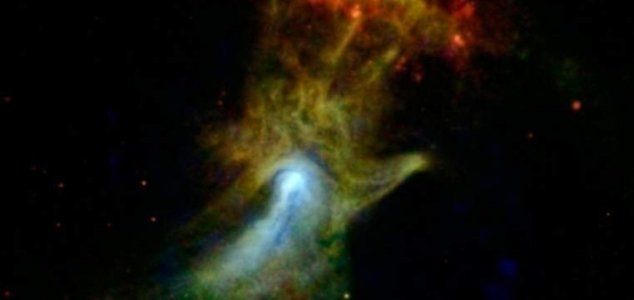 The distant nebula surrounds a neutron star.

Image Credit: NASA/JPL-Caltech
Astronomers have captured the remarkable image of a nebula that resembles a giant hand in space.
Originally photographed by the Chandra X-ray observatory in 2009, the "Hand of God" has been captured again by NASA's Nuclear Spectroscopic Telescope Array (NuStar) in unprecedented detail.
Named after its similarity to Michelangelo's famous artwork on the Sistine Chapel, the image shows a pulsar wind nebula, an object powered by the extremely dense core of a star that blew up in a supernova explosion.
The pulsar itself spins at an incredible rate, seven times per second, firing out a stream of particles that interact with the surrounding material.
"One of the big mysteries of this object is whether the pulsar particles are interacting with the material in a specific way to make it look like a hand, or if the material is in fact shaped like a hand," NASA wrote on its website.
Source: NASA | Comments (16)
Tags: Nebula, NuStar