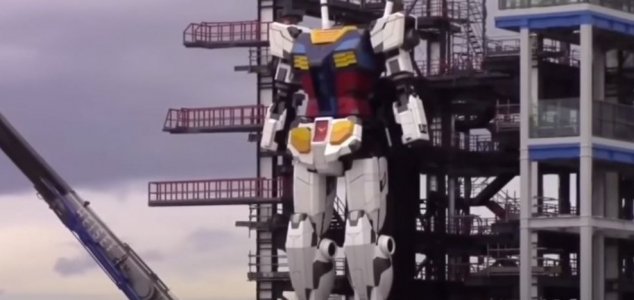 The robot is getting nearer to completion.

Image Credit: YouTube / Michael Overstreet
Engineers in Japan have been working to bring this life-sized robot replica to life in spectacular fashion.
Sometimes referred to as the 'Star Wars' of Japan, the long-running 'Gundam' franchise features gigantic manned robots first seen in the 1979 anime series
Mobile Suit Gundam
.
Having earned over $5 billion,
Gundam
is one of the 15 highest-grossing media franchises ever.
Now in honor of its success, engineers at the Gundam Factory in Yokohama are nearing completion of a gargantuan 60ft replica Gundam that not only looks impressive, but actually moves as well.
Once completed, it will serve as a major tourist attraction for the city.
"At Gundam Factory Yokohama, which will be established at Yamashita Pier, in addition to allowing visitors to see a life-sized 18m-tall Gundam move, we will also be able to share with them, and let them experience, the development processes up until the point where it is ready to move," the official website reads.
A recent video, which can be viewed below, shows the giant robot in action as its creators test out some of its functionality, including moving one of its legs and making it bow down.
As things stand however, the behemoth has yet to be given a head.
Source: Lad Bible | Comments (14)
Similar stories based on this topic:
Tags: Robot, Japan, Gundam