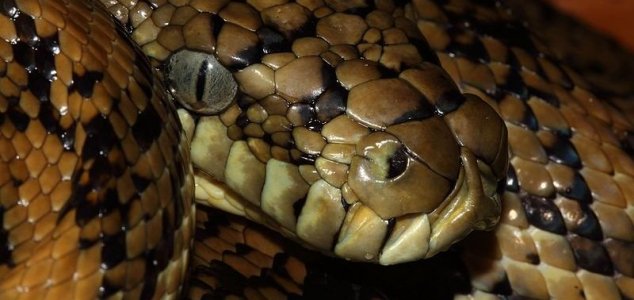 Snakes are more common in Australia at this time of year.

Image Credit: CC BY-SA 4.0 Oliver Neuman
Retiree David Tait, who lives near Brisbane, Australia, played host to two unexpected visitors on Monday.
It sounds like the stuff of nightmares, but for David Tait this week, this nightmare scenario became a stark reality when two massive carpet snakes, which had been presumably fighting over a female, came tumbling onto his kitchen floor through a large hole in the ceiling.
According to snake catcher Steven Brown, the two serpents, which measured 2.8m and 2.5m long, were among the largest he had seen in the region.
Fortunately both were successfully captured and taken to a nearby forest to be released, however no female snake was found, suggesting that it may still be loose in the house somewhere.
"We have a lot of bush around here so you do see snakes," said Tait.
"But I'd never seen snakes of that size."
For Brown, this time of the year is particular busy for snake catchers in Australia and with the coronavirus pandemic as well, more people than ever have been finding snakes at home.
"Because people are at home and they're not out and about... we've got a perfect storm where people will see more snakes," he said.
Source: The Guardian | Comments (29)
Similar stories based on this topic:
Tags: Snake, Australia