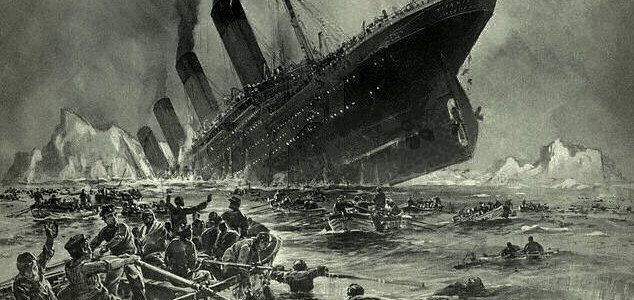 Even the slightest course change could have proven disastrous.

Image Credit: Willy Stower - 1912
It is now believed that a geomagnetic storm interfered with the Titanic's navigation and communications.
Situated 13,000ft beneath the surface of the Atlantic, the wreck of the Titanic was discovered in 1985 and has since served as a humbling reminder of the disaster that claimed over 1,500 lives.
Many factors have been attributed to the string of events that lead to the iconic vessel's demise, including a lack of binoculars for the crow's nest and the fact that the ship's captain had insisted on speeding through a region known to contain icebergs.
Now however, a new study has highlighted another potential factor that may have tipped things over the edge - a geomagnetic storm produced by a solar flare that may have had an impact on the Titanic's navigational and radio capabilities.
"The Titanic struck an iceberg at 2340 ship time on April 14, 1912 (0310 UTC, April 15) in light winds and a relatively calm sea state," writes independent researcher Mila Zinkova.
"The Titanic's Fourth Officer Joseph Boxhall worked out the ship's SOS position. Boxhall's position was around 13 nautical miles (24 km) off their real position. "
"The rescue ship Carpathia received this wrong position, but somehow miraculously streamed directly to the Titanic's lifeboats. Both the error and correction may have been caused by the effect of space weather."
"It is considered here that a significant space weather event, in this instance a geomagnetic storm, was present during the period around the Titanic's disaster, with some impacts upon navigation and communication."
While it isn't clear just how severe an impact the geomagnetic storm may have had on the ship's navigation, even the slightest change of course could have made all the difference.
"A negligible compass error, which might have resulted from the storm, could have placed the Titanic on the collision course," Zinkova wrote.
"The geomagnetic storm might have been partly responsible for the incorrect calculation of the Titanic's SOS position in both direct and indirect ways by influencing the compass, and by adding to the stress level of the navigators who performed the calculations."
Source: Meaww.com | Comments (10)
Similar stories based on this topic:
Tags: Titanic