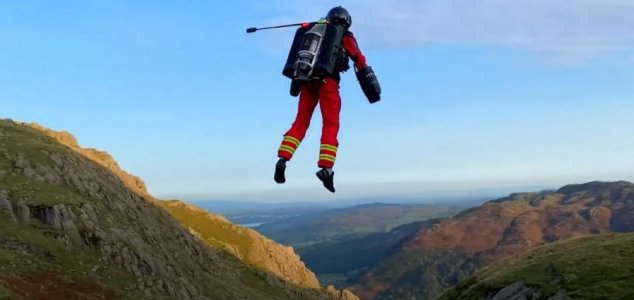 Is this the future of mountain rescue ?

Image Credit: YouTube / Gravity Industries
Paramedics are hoping to use jet suits to quickly reach patients in some of the UK's most inaccessible areas.
Reaching injured hikers in the Peak District and other remote areas of the British Isles can prove challenging at the best of times, with ambulance crews often having to cover significant distances over challenging terrain to reach someone in need of immediate medical assistance.
Now though, in a renewed bid to solve this problem, paramedics have being trialling the use of jet suits to help them reach patients in mere minutes by simply flying straight to them.
"There are dozens of patients every month within the complex but relatively small geographical footprint of the Lakes," said Great North Air Ambulance Service operations director Andy Mawson.
"We could see the need. What we didn't know for sure is how this would work in practice. Well we've seen it now and it is, quite honestly, awesome."
The trial flights were carried out by Richard Browning of Gravity Industries who previously made headlines as a real-life 'Iron Man' following earlier tests of his jet suit technology.
"The biggest advantage is its speed," said Mawson. "If the idea takes off, the flying paramedic will be armed with a medical kit, with strong pain relief for walkers who may have suffered fractures, and a defibrillator for those who may have suffered a heart attack."
"In a jet pack, what might have taken up to an hour to reach the patient may only take a few minutes, and that could mean the difference between life and death."
Whether the jet suit will prove practical or affordable in the long term however remains unclear.
Source: BBC News | Comments (3)
Tags: Jet Suit