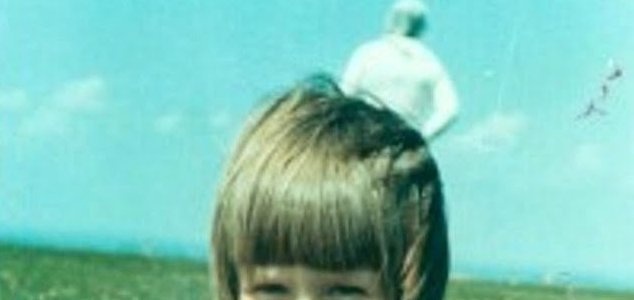 Who or what is the figure standing behind the girl ?

Image Credit: Jim Templeton
A photograph taken during a family day out in 1964 would go on to spawn a decades-long mystery.
It had been a family outing like any other - firefighter and photographer Jim Templeton had taken his five-year-old daughter along to Burgh Marsh overlooking the Solway Firth in Cumbria, England and had brought his camera along to take some pictures.
When the images were developed however, a strange 'spaceman'-type figure was visible behind his daughter's head in one of the shots, despite the fact that nobody of that description was present at the time the picture was taken.
According to Templeton, the only other people there that day had been two old women who were sitting in a car some distance away.
"I took three pictures of my daughter Elizabeth in a similar pose - and was shocked when the middle picture came back from Kodak displaying what looks like a spaceman in the background," he said.
Over the subsequent decades, the photograph, which became known as the 'Solway Firth Spaceman', would go on to appear in various newspapers, books and TV documentaries.
The image became synonymous with the notion that the 'spaceman' was an alien visitor that, for whatever reason, was invisible in person but which showed up in the photograph.
Templeton was even visited by two 'Men in Black', however he believed they were frauds.
So what did he manage to capture on camera that day ?
According to a contemporary analysis, the most likely explanation is that the figure is actually Templeton's wife who had appeared in other photographs taken that day. The white 'spacesuit' is actually an overexposure of her light blue dress and the 'visor' is her dark bobbed hair.
Source: Vintag.es | Comments (20)
Similar stories based on this topic:
Tags: Alien