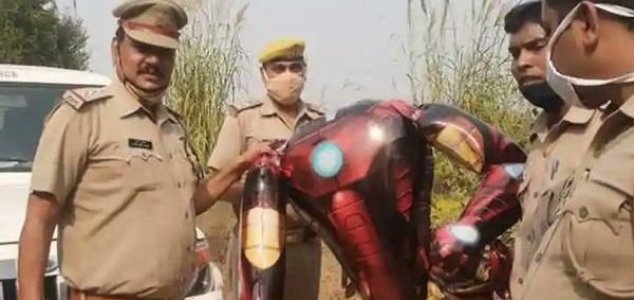 The balloon was particularly odd looking.

Image Credit: Twitter
A novelty balloon of the metal-suited Marvel hero recently caused panic in the town of Dankaur, India.
The strange turn of events reportedly began when local residents claimed that they had witnessed an 'alien' floating through the sky above the streets and houses.
When the object later came down in a nearby canal, the situation descended into 'chaos' with several residents left terrified by the belief that this was in fact some sort of extraterrestrial visitor.
By the time local authorities had arrived, a considerable crowd had gathered.
The Noida Police later clarified that the 'alien' was in fact a novelty balloon shaped like Iron Man.
"It was shaped like the superhero character Iron Man given its color and design," said Dankaur SHO Anil Kumar Pandey. "This was an unusual sight so some people even thought that it was an alien or something like that, therefore they were apprehensive."
Officers managed to retrieve the balloon and examine it, but found nothing harmful inside.
Efforts are now underway to determine where it had come from.
Source: Times Now News | Comments (3)
Similar stories based on this topic:
Tags: Alien