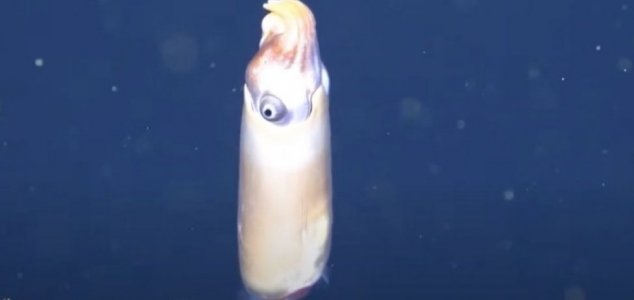 The squid exhibits an unusual appearance.

Image Credit: Twitter / @RebeccaRHelm
Researchers exploring the ocean off Australia have captured the ram's horn squid on film for the first time.
Last week we reported that a Schmidt Ocean Institute expedition off the coast of Queensland had discovered an isolated coral reef the height of the Empire State Building and now, once again using their remote-operated underwater vehicle 'SuBastian', the team has discovered something else in the depths of the Pacific - a rare species of squid that has never been filmed before in its natural habitat.
Resembling a burrito, the peculiar ram's horn squid is the only living squid known to possess an internal coiled shell and is also able to emit a lime-green light from a photophore on its behind.
Having previously only ever been aware of the species from remains washed up on the shoreline, scientists were particularly excited to finally see one swimming around in its ocean home.
"It's been this mystery animal," said biologist Rebecca Helm from the University of North Carolina, Asheville. "It's like the pixie-size version of the giant squid."
The team's encounter with this peculiar cephalopod ended as abruptly as it had begun, with the squid puffing up its mantle with water and shooting off into the unexplored depths.
Source: New York Times | Comments (4)
Similar stories based on this topic:
Tags: Squid