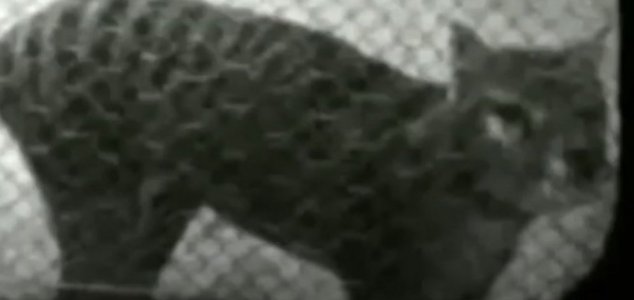 This is the only known footage of a young thylacine.

Image Credit: YouTube / Mike Williams
Researchers have been scouring Australia's archives for long-lost video clips of the extinct Tasmanian tiger.
2020 has been something of a bumper year for vintage thylacine clips with two videos of adult thylacines being revealed to the public back in March and May.
This latest clip however is something particularly special as it shows an actual thylacine cub - only a few months old - pacing around inside its enclosure.
The footage was captured by Reverend Harold Doyle in 1930 before being donated to Australia's National Film and Sound Archive where it had remained undiscovered until now.
It wasn't until thylacine researchers Branden Holmes, Gareth Linnard and Mike Williams started trawling through the archives for thylacine footage that the three clips were brought to light.
This new clip is perhaps the most important of them all because until now there had been no known footage of a juvenile thylacine.
Viewable below, it provides a unique look at what a Tasmanian tiger cub was like.
Comments (9)
Similar stories based on this topic:
Tags: Thylacine