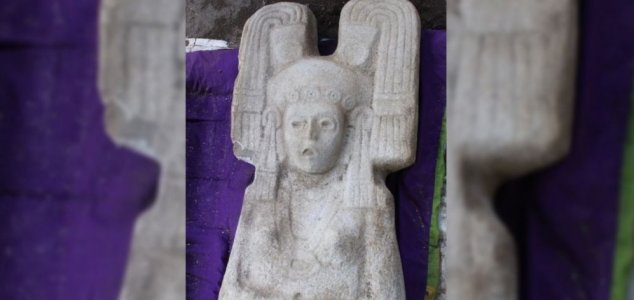 Image Credit: Maria Eugenia Maldonado Vite / INAH
The 500-year-old statue of a woman unearthed in Mexico has a surprisingly familiar head ornamentation.
The unusual limestone statue, which was discovered in a citrus field in Hidalgo Amajac, Central Mexico, is thought to date back to the late Postclassic period and depicts a woman wearing an elaborate headdress not dissimilar to that worn by Ahsoka Tano - Anakin Skywalker's Jedi Padawan from the
Star Wars: The Clone Wars
animated movie and TV series.
While any resemblance to the character is of course purely coincidental, the discovery is still of great significance to researchers at Mexico's National Institute of Anthropology and History.
According to excavation leader Maria Eugenia Maldonado Vite, the woman in the statue was "possibly a ruler, because of her posture and attire, rather than a deity." Her discovery "confirm[s] the active participation of ruling women in the Huastec social and political structure."
Interestingly, the statue's eyes and mouth are wide open, suggesting that they may have once contained obsidian or some other precious stones.
"The style of the young woman from Amajac is similar to representations of Huastec goddesses of the Earth and fertility, but with an external influence, possibly [the] Nahua, as can be seen in the inlaid eye socket - a feature that does not belong to Classical Huasteca sculpture," said Vite.
"In addition, the cloth that Huastec women present in front of the skirt is always smooth, and this one has an ornament of knots and ribbons on it."
Source: Live Science | Comments (16)
Similar stories based on this topic:
Tags: Star Wars, Mexico