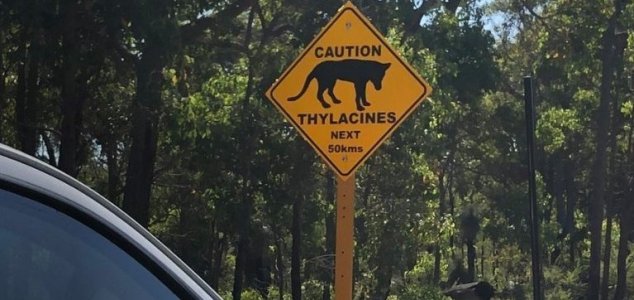 Are we about to see evidence of live thylacines ?

Image Credit: Nannup Police
A Tasmanian tiger enthusiast has announced that he will be releasing three tantalizing new images on March 1st.
One of the best known recent examples of a species wiped out by human hunting practices, the thylacine was a distinctive carnivorous marsupial native to Australia, Tasmania and New Guinea.
Sporadic reports of alleged thylacines in the wild however have continued even to the present day.
Now Neil Waters, President of the Thylacine Awareness Group of Australia (TAGOA), has announced that he has captured three photographs of a thylacine family in north-east Tasmania.
The images, which have since been passed on to wildlife expert Nick Mooney for independent verification, were reportedly taken using a camera trap.
"I know what they are and so do a few independent expert witnesses, expert canine judges, feline judges and a vet," said Waters.
"I can tell you there's three images. We believe... that the first image is the mum, we know the second image is the baby because it's so tiny and the third image is the dad."
Waters intends to release the images to the public on March 1st.
But could he have really captured compelling photographic evidence of three live thylacines many decades after the last confirmed sighting of one in the wild ?
As things stand, we'll just have to wait and see what he reveals in around a week's time.
Update:
The images have been released and can be viewed -
here
.
Source: Lad Bible | Comments (74)
Similar stories based on this topic:
Tags: Thylacine