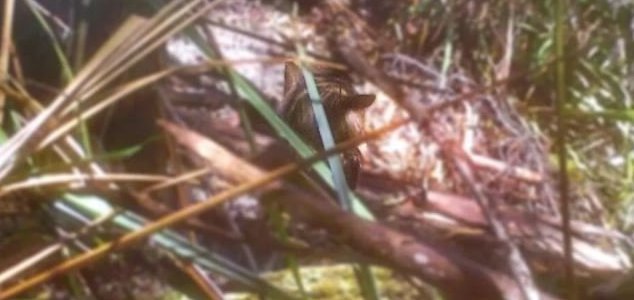 One of the three new images.

Image Credit: YouTube / Thylacine Awareness Group of Australia
Trail camera images of an alleged 'thylacine family' have been revealed, but not everyone is convinced.
Back in February, Neil Waters - President of the Thylacine Awareness Group of Australia (TAGOA) - announced that he had captured three photographs of a thylacine family in north-east Tasmania.
At the time, he promised to release them to the public on March 1st.
Now it is March 1st and, true to his word, Waters has released the images by way of a new YouTube video which you can view below.
In the video, Waters shows three still frames from a trail camera which, he believes, represent evidence of the continued survival in the wild of the Tasmanian tiger.
One image shows a young joey, he argues, while the others show the mother and father.
Wildlife experts however remain skeptical that the animals in these images are thylacines.
"[Thylacine expert] Nick Mooney has concluded, that based on the physical characteristics shown in the photos provided by Mr Waters, the animals are very unlikely to be thylacines, and are most likely Tasmanian pademelons," the Tasmanian Museum and Art Gallery has stated.
Mooney is certainly not alone in casting doubt on the photographs.
"Given that the thylacine has not been seen for 85 years, the likelihood it is something else is by far the most logical conclusion," said marsupial evolutionary biologist Andrew Pask.
"It could easily be a cat, dog or wallaby based on the images."
Sadly then, while the images are certainly interesting, it seems that most experts disagree with Waters' assessment that they represent evidence of live thylacines.
Even if these really are thylacines, photographs alone will never be enough to satisfy science.
Source: CNET.com | Comments (74)
Similar stories based on this topic:
Tags: Thylacine