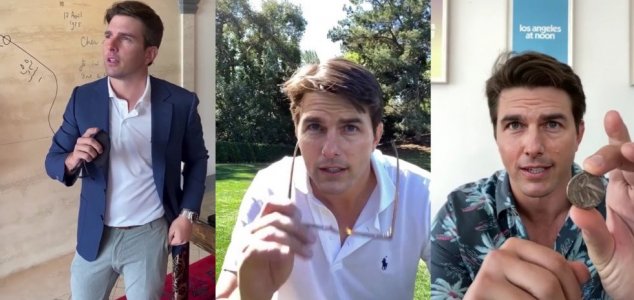 How will we be able to tell what's real and fake ?

Image Credit: @deeptomcruise / TikTok
A series of extremely convincing deepfake clips of Tom Cruise have raised both concern and intrigue.
Fake news and misleading headlines are already a significant issue in a world dominated by social media, but in the near future, it is going to become even more difficult to determine what is true and what isn't thanks to a rapidly advancing technology that makes it possible to produce 'deepfake' footage showing people doing or saying things that they never actually did or said.
Early deepfakes were relatively easy to spot, however already we are starting to see deepfakes that are so convincing that you would never know they were fake unless someone told you they were.
Most recently, a set of viral clips of Tom Cruise have been raising eyebrows for this very reason.
The videos, which appeared on clip-sharing site TikTok, show Cruise larking around with his signature laugh and mannerisms perfectly recreated via the fusion of computer imagery and a real-life actor.
The result is eerily realistic to the point where it is very difficult to tell that it is not real.
The clips were created using machine learning software that analyzed large amounts of footage of Cruise to learn his appearance, facial movements and nuances. His face was then superimposed on footage of an actor who impersonates Cruise's behavior and voice.
In the future, deepfake videos like this could be used to make politicians say things they didn't say, misleading entire populations and making footage much more difficult to take for granted.
"Deepfakes will impact public trust, provide cover and plausible deniability for criminals/abusers caught on video or audio, and will be (and are) used to manipulate, humiliate, and hurt people," wrote Social Proof Security CEO Rachel Tobac.
Source: Nerdist | Comments (19)
Tags: Deepfake