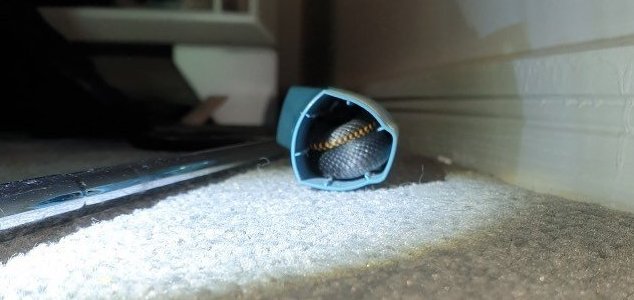 Thankfully she spotted the snake in time.

Image Credit: Facebook / Sunshine Coast Snake Catchers 24/7
Snake catchers in Australia were recently called to remove a snake from the unlikeliest of places.
The peculiar incident occurred in Bli Bli, Queensland where a teenager had spotted a small snake slithering out of a pile of washing she had brought in from outside and placed on the floor.
She was initially unable to determine where the unwelcome visitor had gone, however it didn't take long for her to discover that the curious serpent had curled up inside one of her asthma inhalers.
Unsurprisingly, she wasted no time in calling a snake catcher to come and remove it from the house.
It turned out that this was in fact a venomous red-bellied black snake.
"You would not believe this... at a home in Bli Bli a teenaged girl got the surprise of her life,"
Sunshine Coast Snake Catchers 24/7
wrote on Facebook after attending the incident.
"She brought the washing in and as she put it on the floor of the bedroom, she saw a dark colored Snake came out of the clothing. When Heather arrived she found a baby Red Bellied Black Snake inside of the girl's Asthma Inhaler."
"This is crazy and super lucky we were able to find the snake. It's one of the most incredible places we have ever found a snake before and glad Heather was able to catch and relocate it safely."
Source: Times News Now | Comments (6)
Similar stories based on this topic:
Tags: Snake, Asthma, Inhaler