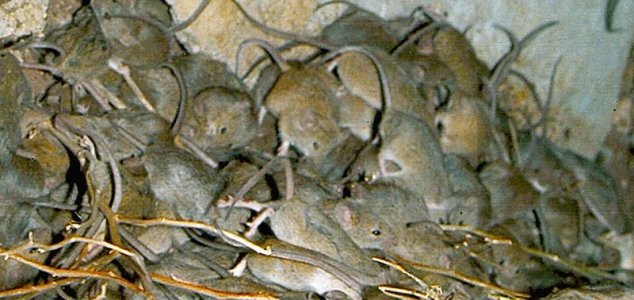 The sheer number of mice is making it difficult for businesses to cope.

Image Credit: CC BY 3.0 CSIRO
Rural farms and towns in New South Wales have been dealing with the worst plague of mice in decades.
If you happen to be one of the millions of people around the world who suffers from an irrational fear of mice, it might be best giving a visit to Australia a miss for the time being.
A bumper grain harvest has left residents in and around the town of Gilgandra and other nearby areas fearing for their livelihoods as countless thousands of rodents have descended on the region.
Videos on local news media have demonstrated the scale of the infestation with the ground literally crawling with so many mice that it would be impossible to count how many there are.
In addition to devastating food stocks and fouling storerooms, the rodents also represent a danger to humans - especially young children - due to their tendency to bite.
Several people have already been hospitalized, while shops and supermarkets have been forced to store all their food in sealed containers to stop the animals getting access to them.
"You can imagine that every time you open a cupboard, every time you go to your pantry, there are mice present," said rodent expert Steve Henry.
"And they're eating into your food containers, they're fouling your clean linen in your linen cupboard, they're running across your bed at night."
As things stand, there's nothing much that can be done but to wait and hope that the colder weather - or alternatively a torrential downpour - will put a stop to the infestation once and for all.
Source: Reuters | Comments (25)
Similar stories based on this topic:
Tags: Mice, Plague