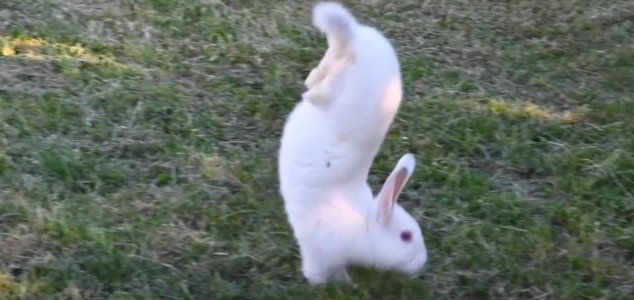 Ever seen a rabbit doing a handstand ?

Image Credit: YouTube / Science News
Scientists believe that they have determined why a peculiar strain of rabbit walks around doing a handstand.
The rabbits, which for the last 100 years have walked around on their two front legs, had left geneticists scratching their heads, but now a new study has revealed that their odd behavior is all down to a genetic mutation that could have been hidden in their genetic code for generations.
Native to France, the rabbits were first identified after a domesticated one was found living in a Parisian suburb in 1935. The animals walk around normally on four legs most of the time, but if startled or in a rush, they suddenly lift themselves on to their front legs and do a handstand.
It is now believed that the strain - known as the Alfort jumper - is also more prone to blindness.
"The strain has been kept since then to study ocular malformations and pathological locomotion," study co-author Miguel Carneiro from the University of Porto in Portugal told
Gizmodo
. "Rabbits carrying this mutation would not be able to survive long in the wild due to its deleterious effects."
The mutation in these rabbits appears to affect what is known as the RORB gene.
"What's happening when you're moving is that you have these neurons firing all the time, and they coordinate muscle contractions and receive feedback on the balance of the different limbs," said study co-author Leif Andersson from Uppsala University in Sweden.
"This coordination of muscle contraction is not correct in these rabbits."
Source: Gizmodo | Comments (7)
Similar stories based on this topic:
Tags: Rabbit