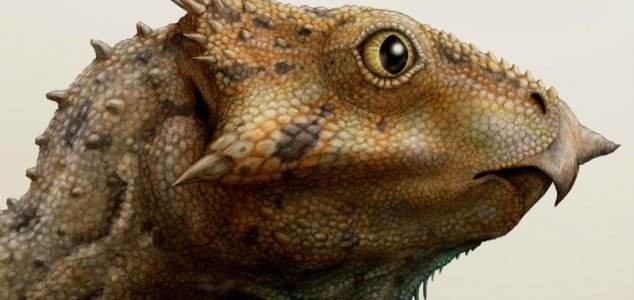 An artist's reconstruction of Aquilops americanus.

Image Credit: CC BY 2.5 Brian Engh
Palaeontologists have identified a rabbit-sized horned dinosaur that was a relative of Triceratops.
The new species, which was discovered during an expedition to Montana in 1997, has now been named
Aquilops americanus
after being officially recognized as the earliest known example of a ceratopsian ever found in North America.
The eagle-faced dinosaur possessed an unusual looking beak but lacked the brow horns and neck frill of its relative Triceratops which didn't emerge until more than 50 million years later.
Paleontologist Andrew Farke and colleagues believe that
Aquilops
, which was also a lot smaller than Triceratops, actually belonged to a side-branch of the ceratopsian family tree and that its closest living relative at the time most likely resided in Asia.
"Now that it's been officially described, we'll be able to more accurately talk about early horned dinosaur evolutionary history in North America," he said.
Source: National Geographic | Comments (5)
Similar stories based on this topic:
Tags: Dinosaurs