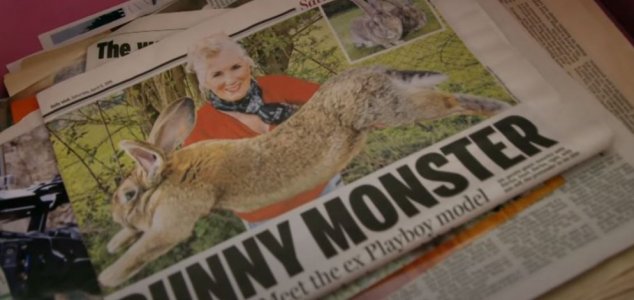 Darius is a true giant among bunnies.

Image Credit: YouTube / Nature on PBS
An enormous record-breaking rabbit has been stolen from its enclosure in Worcestershire, England.
Measuring a whopping 129cm (over 4ft) in length, this enormous rabbit - which was recognized in 2010 by Guinness World Records as the largest of its kind - belongs to a breed known as the continental giant rabbit which was originally bred as a source of meat.
Breeder Annette Edwards, who specializes in these rabbits, has produced a string of record-breaking examples over the years and while Darius is getting on a bit now, he is still absolutely enormous.
It isn't surprising, therefore, that she is extremely keen to see this gentle giant returned to her.
"We are appealing for information following the theft of an award-winning rabbit from its home in Stoulton, Worcestershire," said a West Mercia police spokesperson.
"It is believed the continental giant rabbit was stolen from its enclosure in the garden of the property of its owners overnight on Saturday 10 April to 11 April."
According to Edwards, Darius is now "too old to breed" and so will be of limited use to his captors.
She described the incident as a "very sad day."
Source: BBC News | Comments (12)
Similar stories based on this topic:
Tags: Rabbit, Darius