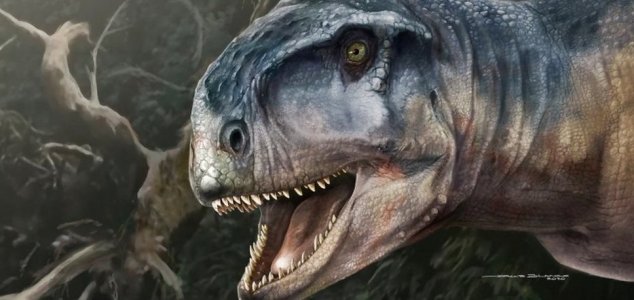 The 'one who causes fear'.

Image Credit: Jorge Blanco / Journal of Vertebrate Palaeontology
Palaeontologists have unearthed the fossil remains of a new species of large, carnivorous dinosaur in Argentina.
Discovered in the South American country's Patagonia region, this enormous reptile roamed the continent 85 million years ago during the Cretaceous period.
Measuring around five meters long, it was quite a bit smaller than Tyrannosaurus rex, however it was still capable of delivering a strong bite and would have been a vicious and deadly predator.
It was also believed to have had superior hearing and would have been a very effective hunter.
It has been named
Llukalkan aliocranianus
, which means 'one who causes fear' in the local language.
During the excavation, paleontologists also discovered the remains of another predator -
Viavenator exxoni
- which was slightly larger than
Llukalkan
.
Finding both together at the same site was particularly unusual.
"Llukalkan was a little smaller than Viavenator, although, if they lived together, they surely shared the same ecological niche and fed on the same prey, so they would have competed with each other and - why not - even eaten each other," said Federico Gianechini from the National University of San Luis Argentina.
Source: BBC News | Comments (1)
Similar stories based on this topic:
Tags: Dinosaur