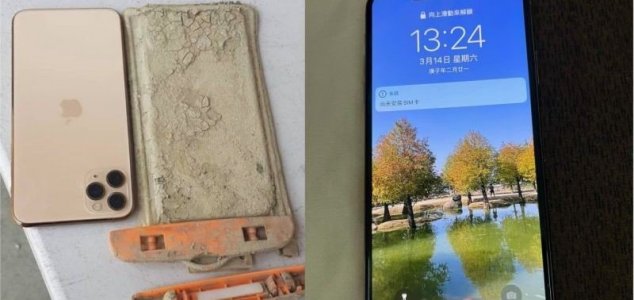 This is one resilient iPhone.

Image Credit: Facebook / Bao Fei 1 Commune
A man who lost his iPhone over 12 months ago couldn't believe his luck when he managed to find it again.
The man, who has been identified on social media only as Chen, had been paddle-boarding on Sun Moon Lake on March 15th last year when his phone - which he had been keeping around his neck in a special waterproof bag - disappeared into the depths after an unfortunate topple into the water.
Unable to retrieve it, he went home wondering if anyone else would ever come across it.
Incredibly, over a year later and during the worst drought Taiwan has seen in 56 years, he received word that someone had actually discovered his phone lying on the baked, dried-up shoreline.
The specific area in question, it turned out, had not been exposed for over 50 years and a mere few days after the phone was found the area was underwater again.
When Chen was finally reunited with the phone, he took it out of the pouch - which was covered in soil - and tried charging it up. To his surprise and delight, it actually worked.
"I can only say that the waterproof case for the phone is really great!" he wrote. "There is no water in it! I'm so happy to have recovered my phone after having lost it for so long."
Others on Facebook were quick to add their own thoughts, with one person joking that "sales of this waterproof bag are going to boom" and another referring to his phone as the "mini Titanic."
"This achievement may be impossible for many people to accomplish in a lifetime," another noted.
Source: Taiwan News | Comments (9)
Similar stories based on this topic:
Tags: Phone