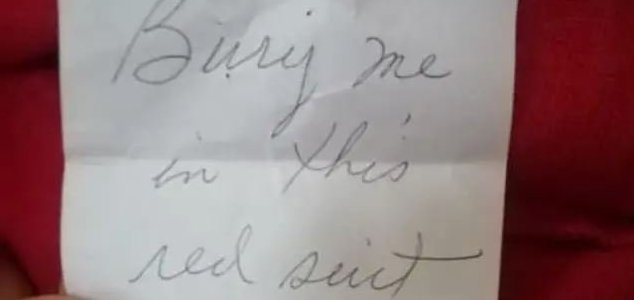 Who wrote this and what became of them ?

Image Credit: Facebook
A woman who was about to buy a red coat from a charity shop found a rather unnerving note inside its pocket.
You can often find a few good bargains when shopping for second-hand clothes in charity shops - but sometimes it's also possible to find a chilling reminder that the items you are buying were once owned by someone else.
This point was brought into sharp focus recently when a woman in the US discovered a hand-written note inside one of the pockets of an old red coat that she was trying on in a Thrift store.
The scrap of paper read simply: "Bury me in this red suit."
Whoever had owned the coat, it seems, had not got their wish.
Photographs of the discovery, which were later posted up on Facebook, generated hundreds of shares with some users commenting on how sad it was that the former owner hadn't got what they wanted.
Others, meanwhile, tried to make light of the situation.
"Beware. The dead owner might haunt you for her jacket. I sure as hell would," one wrote.
"I'm gonna start putting this in the pockets of all the clothes I donate," wrote another.
Of course it's also possible that the owner of the jacket changed their mind about being buried in it and decided to donate it to the charity shop without realizing that the note was still in the pocket.
Whatever the case, we will probably never know for sure.
Source: Lad Bible | Comments (7)
Similar stories based on this topic:
Tags: Note