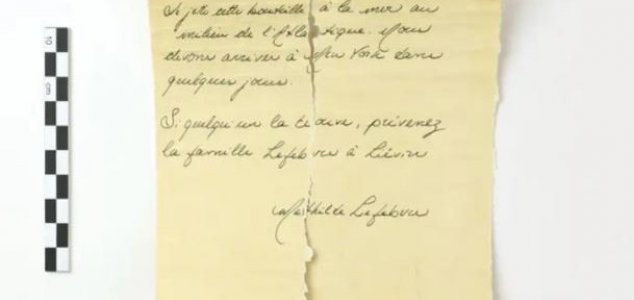 Did a Titanic passenger write this ?

Image Credit: University of Quebec at Rimouski
A message-in-a-bottle found washed up on a beach in Canada may have come from the ill-fated vessel.
Discovered by a New Brunswick family on Hopewell Rocks beach in the Bay of Fundy back in 2017, the note appears to have been written by a young girl who was traveling aboard the Titanic in 1912.
Dated one day before the ship sank and bearing the signature of Mathilde Lefebvre, it reads:
"I am throwing this bottle into the sea in the middle of the Atlantic. We are due to arrive in New York in a few days. If anyone finds it, tell the Lefebvre family in Lievin."
Researchers at the University of Quebec at Rimouski (UQAR) are now attempting to determine if the note is genuine and if it really came from a passenger who was aboard the Titanic.
"The bottle could be the first Titanic artifact found on the American coast," said Prof Maxime Gohier. "But the story of its discovery and the enthusiasm it arouses is also an interesting subject of study."
"The discoverers were met by members of the team to document the location and circumstances of the find, as well as members of the Lefebvre family residing in Aix-en-Provence."
Mathilde Lefebvre had been a third-class passenger traveling to New York with her mother to join their father who had previously traveled to the United States with four of her siblings.
As things stand, researchers have been unable to confirm the note's authenticity, however they have not found anything to expose it as fraudulent either.
"We can already confirm that materially, the bottle and its contents are not incompatible with the date written on the letter," said Prof Manon Savard.
Source: Lad Bible | Comments (6)
Similar stories based on this topic:
Tags: Titanic