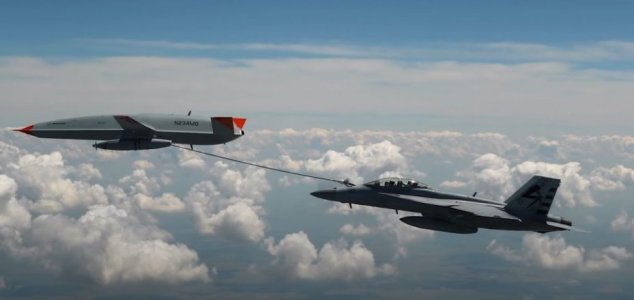 The procedure went smoothly.

Image Credit: YouTube / Boeing
An unmanned tanker drone successfully refueled a fighter jet in mid-air during a test flight on Friday.
The impressive feat, which involved a Navy F/A-18 Super Hornet, demonstrated the significant potential of unmanned tanker drones and could mark the beginning of the end for traditional piloted tanker aircraft.
During the test flight, the drone - a Boeing-built device named MQ-25 Stingray - maintained its altitude and speed as the hose extended and the two aircraft briefly linked up to exchange fuel.
The test was carried out from the MidAmerica St. Louis Airport in Mascoutah, Illinois.
In total, 325lbs of fuel was transferred during the flight which lasted 4.5 hours.
"Unmanned systems alongside our traditional combatant force provide additional capability and capacity to give our warfighters the advantage needed to fight, win and deter potential aggressors," said Captain Chad Reed of the US Navy's Unmanned Carrier Aviation program office.
"The MQ-25 is that first step towards a future where the carrier-based fleet is augmented by unmanned systems."
The US Navy also posted up a Tweet describing the mission's success as "aviation history".
"This flight lays the foundation for integration into the carrier environment, allowing for greater capability toward manned-unmanned teaming concepts," the post reads.
Source: CBS News | Comments (10)
Similar stories based on this topic:
Tags: Drone