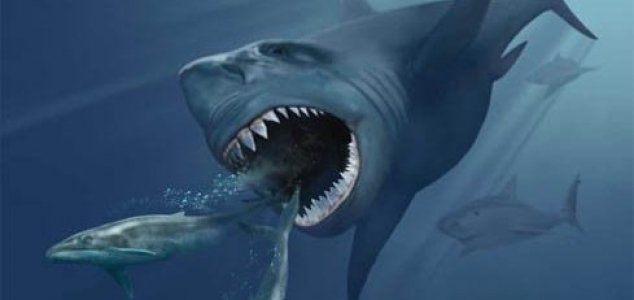 We're going to need an even bigger boat...

Image Credit: CC BY 3.0 Karen Carr
A new study has indicated that the largest shark that ever lived may have been even bigger than we thought.
Sporting several rows of deadly serrated teeth up to 5 inches long, this prehistoric behemoth, which lived up until around 2.6 million years ago, made the great white shark - which is less than a third of its size - look like a minnow.
Up until recently, these enormous sharks were thought to grow up to 18 meters in length, however a new method for calculating its size from the width of its teeth has now upped this figure to 20 meters.
The technique was pioneered by paleontologist Victor Perez of the Calvert Marine Museum and French amateur paleontologist Teddy Badaut who devised new equations based on the idea that, since a Megalodon tooth is limited by the size of its jaw and the size of its jaw is proportional to the length of its body, it should be possible to use the size of the tooth to estimate the length of the body.
"I was quite surprised that indeed no one had thought of this before," said paleontologist Ronny Maik Leder of the Natural History Museum in Germany.
"The simple beauty of this method must have been too obvious to be seen. Our model was much more stable than previous approaches. This collaboration was a wonderful example of why working with amateur and hobby paleontologists is so important."
While the new figures are still not perfect, they do provide a more accurate idea of just how large these enormous prehistoric undersea predators actually were.
Source: Science Alert | Comments (5)
Similar stories based on this topic:
Tags: Megalodon