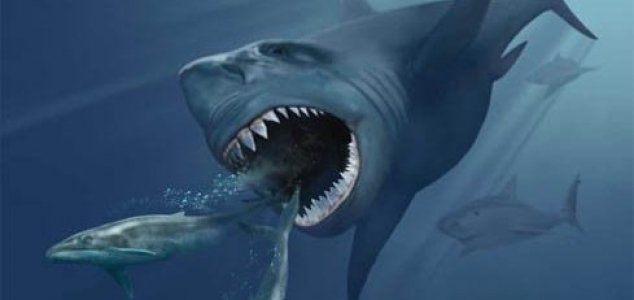 Even newborn megalodons were a force to be reckoned with.

Image Credit: CC BY 3.0 Karen Carr
The world's largest shark was over two meters long at birth thanks to its penchant for eating its siblings.
Measuring up to 60ft in length, this prehistoric behemoth, which lived up until around 2.6 million years ago, made the great white shark - which is less than a third of its size - look like a minnow.
For 20 million years this gargantuan predator dominated the world's oceans, but then something happened that had such a catastrophic effect on the species that it ended up going extinct.
Now a new study involving an x-ray analysis of fossil vertebrae belonging to these prehistoric giants has revealed that even when newly born, these huge sharks were larger than an adult human.
The research, which was led by palaeobiologist Kenshu Shimada from DePaul University in Chicago, discovered the presence of 46 growth bands within the fossil that indicated, not only how the animal had grown over the years, but what size it had originally started out at.
"The new study is really the first of its kind for megalodon that has given us good insight into its size at birth, reproductive mode and growth pattern," said Shimada.
"Based on the sizes of the smallest known megalodon teeth, I had a hunch that the size at birth may be around two to 2.5 meters."
It is believed that, like some other shark species, megalodon juveniles may have reached such a large size by feeding on the unhatched eggs of their siblings while still in the womb.
Source: The Guardian | Comments (1)
Similar stories based on this topic:
Tags: Megalodon