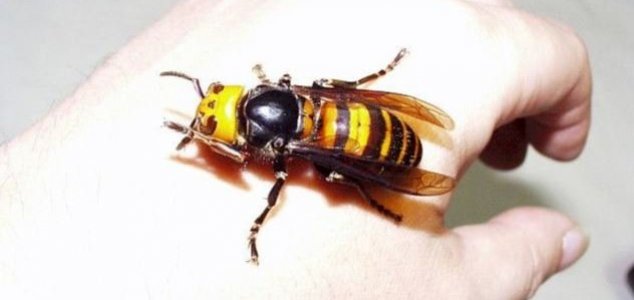 You don't want to find a hive of these in your garden...

Image Credit: CC BY 2.0 Justin Lindsay / Flickr
The dried-up specimen is the first giant Asian hornet found in the United States so far this year.
Measuring 1.8 inches long and with a venomous stinger quarter-of-an-inch in length, the 'murder hornet' can actually prove lethal to humans and is responsible for up to 50 deaths a year in Japan.
In addition, these predatory insects are known to attack honey bees which (unlike their Japanese counterparts) have no innate defense against them.
Preventing them from gaining a strong foothold in the United States, therefore, is very important.
This particular specimen was found earlier this month in Snohomish County, Washington State by a member of the public who grew concerned about the presence of the insect in the region.
"The find is perplexing because it is too early for a male to emerge," said Dr Osama El-Lissy of the US Department of Agriculture's quarantine program.
"This new report continues to underscore how important public reporting is for all suspected invasive species, but especially Asian giant hornet."
"We'll now be setting traps in the area and encouraging citizen scientists to trap in Snohomish and King counties. None of this would have happened without an alert resident taking the time to snap a photo and submit a report."
With any luck, efforts to prevent the insects from setting up home in the state will prove successful.
Source: Sky News | Comments (3)
Similar stories based on this topic:
Tags: Hornet