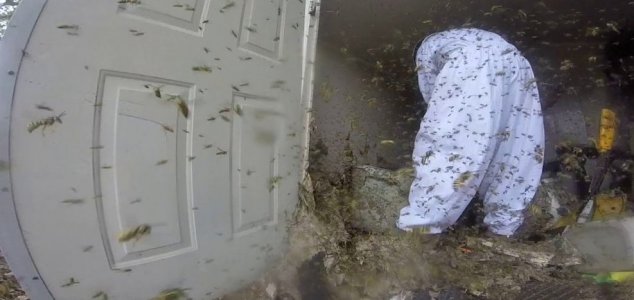 It's not a job for the feint of heart.

Image Credit: YouTube / Stinger Creations
Louisiana exterminator Jude Verret was called out recently to remove a truly monstrous nest of hornets.
In the footage, the troublesome swarm of insects, which had set up home inside a pile of junk being stored in a shed, can be heard pelting the camera over and over as Verret gets to work.
The nest itself, which resembled a mass of dirt and cardboard, was around the size of a refrigerator.
Describing it as "the granddaddy of hornet's nests," the veteran exterminator seemed to make light work of the monumental task of removing it as the swarm of hornets buzzed around him.
All in all it took him a mere 45 minutes to completely remove the nest from the property.
Source: National Geographic | Comments (8)
Tags: Hornets