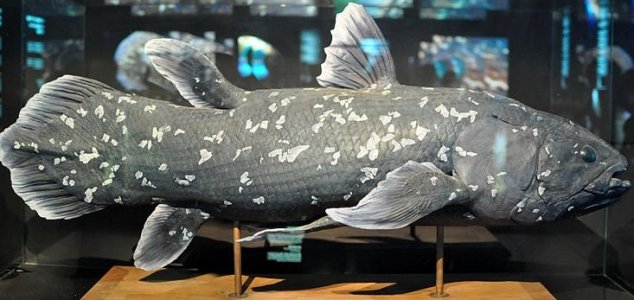 The coelacanth is highly vulnerable to modern fishing practices.

Image Credit: Citron / CC-BY-SA-3.0
A fish once thought to have died out in prehistoric times is continuing to throw up surprises for scientists.
Large, elusive and found deep in the oceans where they had until relatively recently remained hidden away from human civilization, the coelacanth was first discovered in 1938 at a time when fossil evidence seemed to suggest that it had been extinct for 66 million years.
Its remarkable similarity to fossil specimens from that era led scientists to declare it a 'living fossil' - a moniker given to creatures that have remained practically unchanged since prehistoric times.
Now a team of researchers from France has determined that the coelacanth also happens to live for a very long time - upwards of 100 years.
To determine this, they discovered that marks on the scales of the fish can indicate its age in much the same way as tree rings can indicate the age of a tree.
Their research also revealed that the coelacanth is particularly vulnerable because it grows slowly, reproduces only in late middle age and can be pregnant for up to five years.
"Our results thus suggest that it may be even more threatened than expected due to its peculiar life history," said Dr Kelig Mahe of the North Sea Fisheries Research Unit.
"Consequently, these new pieces of information on coelacanths' biology and life history are essential to the conservation and management of this species."
Source: BBC News | Comments (2)
Tags: Coelacanth