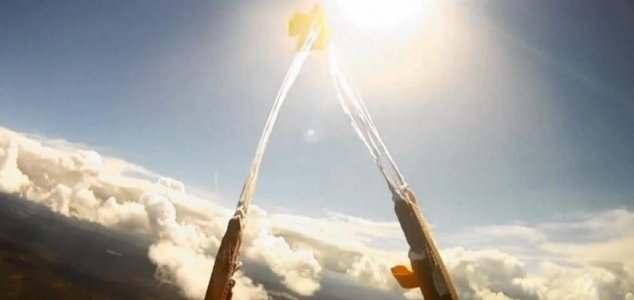 This is why most people will never go skydiving.

Image Credit: YouTube / nrk / Anders Helstrup
A paratrooper has miraculously survived after his parachute failed to open correctly during a jump.
For anyone who has ever contemplated undertaking a parachute jump, the prospect of the parachute failing to open is typically the number one concern.
While such an occurrence is rare, it can and does happen - often with devastating consequences.
In this particular case however, the unfortunate parachutist actually made it home alive.
The British paratrooper, whose name has not been disclosed, had jumped from a plane during a High Altitude Low Opening (Halo) exercise over California when he lost control and his parachute failed to open correctly.
After plummeting 15,000ft he landed on a house, smashed through the roof and ended up in the owner's kitchen with nothing but a few minor injuries to show for his ordeal.
"[He] came through the roof, through the tresses and there's not that much damage in the house," said the homeowner's mother.
"It's amazing. It's mostly the ceiling, the sheetrock. He missed the counters, appliances, everything."
Local police later confirmed that he was "conscious but stunned with complaints of pain but no visible serious injuries."
He has since been taken to hospital and is expected to make a full recovery.
Source: MSN.com | Comments (9)
Similar stories based on this topic:
Tags: Parachute