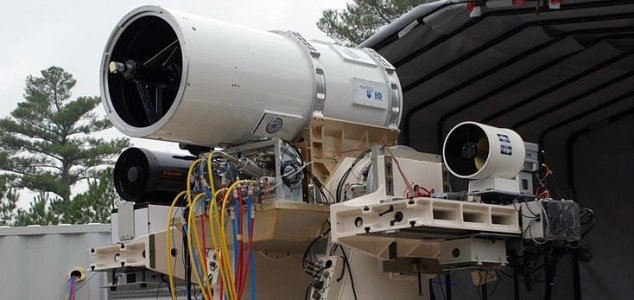 Is directed energy technology the future of warfare ?

Image Credit: US Navy
The report, which focuses on directed energy weapons, suggests that force fields could soon become a reality.
Released by the Air Force Research Laboratory at Kirtland Air Force Base, the report provides an analysis of investments into directed energy technologies, how these will develop over time and whether or not the United States will be leading the field in the coming decades.
Despite being a relatively new class of weapon system, directed energy, according to the report's authors, could now be critical to the US military's future success.
Perhaps the most interesting thing about the report however is its references to "force fields", something that has until now been mostly the stuff of science fiction.
According to the authors, "a sufficiently large fleet or constellation of high-altitude DEW systems" could be used to provide a "missile defense umbrella, as part of a layered defense system, if such concepts prove affordable and necessary."
Other applications for force fields listed in the report include counter-drone systems, counter-missile systems and even a "pain ray" - all using variations of directed energy technology.
"By 2060 we can predict that DE systems will become more effective, and this idea of a force field includes methods to destroy other threats too," AFRL's Directed Energy Deputy Chief Scientist Jeremy Murray-Krezan said in an accompanying press release.
"Eventually there may be potential to achieve the penultimate goal of a Nuclear or ballistic missile umbrella. It's fun to think about what that might be in 2060, but we don't want to speculate too much."
Source: The Drive | Comments (3)
Tags: Force Fields