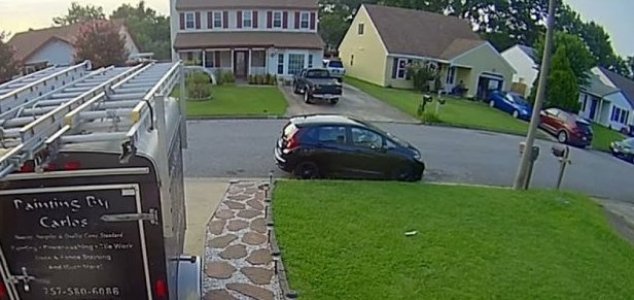 It's not every day your car is hit by a falling fish.

Image Credit: YouTube / ViralHog
A residential doorbell camera in Virginia recently picked up the moment a fish plummeted from the sky.
Over the years we've seen many cases of fish or frogs raining from the sky, but this is perhaps the first time that we've actually seen video footage to back it up.
The clip, which has since gone viral, was recorded by a doorbell camera in Virginia Beach and shows the moment a fish falls from the sky and lands right on top of someone's car.
A few seconds later, a woman can be seen coming outside to investigate.
According to reports, the homeowner - Carlos Maldonado - had initially heard about the fish from his neighbors and had refused to believe it until he watched the footage himself.
"A claim was already pending on another part of the car that got damaged, and then the fish fell from the sky and bent the spoiler," he said. "The neighbors said it sounded like a gunshot and they came over to investigate and saw the fish and knocked on our door."
So where did the fish actually come from ?
If you look closely at the top left of the frame near the start of the video, you can see the culprit swooping in. In all likelihood - the bird had inadvertently dropped the fish right at that moment.
Source: NDTV.com | Comments (12)
Similar stories based on this topic:
Tags: Fish