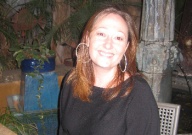 Interview: Jennifer Newell
Posted on Monday, 21 December, 2009 |

1 comment
Columnist:

Paul Dale Roberts
Paul interviews new paranormal investigator Jennifer Newell who following a near death experience at the age of 13 has had numerous paranormal experiences ranging from persistant hauntings to premonitions.
Paul:
Jennifer, before I truly get into this interview, can you tell me something personal about yourself. You can tell the readers about your family, where you were born, where you have lived, etc.
Jennifer:
I'm very outdoorsy. I love hiking, snowboarding, water sports, everything. My parents are old time bikers. Yes, I mean that my parents ride motorcycles. I was born in Colorado but spent my whole life in Las Vegas, NV. And I love tea.
Paul:
If a song played on the radio, what song would that be, where people would think of you?
Jennifer:
One Step Closer by Linkin Park. To hear the song, stop by here: http://popup.lala.com/popup/360569453760904514
Paul:
When did you move to Sacramento? What are the fun things you have done in Sacramento?
Jennifer:
I moved here in June. I spent a lot of time touring this city. I've been to Old Sac and toured the Gold and Train Museum. I love the Zoo. I've also visited the Folsom Prison, The Cary House Hotel in Placerville, Coloma which is full of history. I've gone gold panning in Auburn, inner-tubed the American River, and enjoyed the culture and food on J Street. It is sad the underground tunnels are now closed. I think Sacramento has a lot to offer if you take the time to look.
Paul:
Are you ready for your first investigation with HPI as a full fledged paranormal investigator?
Jennifer:
I am ready!
Paul:
Jennifer, you have a very interesting story to tell. I don't even know where to start. Hmmm…oh yeah, you told me off-the-record that your first paranormal experience was at the age of 3. Can you tell me about that please?
Jennifer:
That was the age my mom said I was when I started talking about the cowboy shadow on my wall. I remember him very well. I always had to sleep with my bathroom door open for light and his shadow would be cast across the room. I remember getting up one night and trying to "debunk" the shadow, already a ghost hunter and just out of diapers, when I couldn't find where the shadow was coming from I finally told my mom who said it sounded like my great, great grandfather who used to work for Buffalo Bill Cody as a cattle herder. The shadow appeared every single night until my room was painted at age 12. But the shadow is not the only experience. Me, my mother and anyone visiting us would constantly hear someone call our names, the sound of spurs walking from one walk and into the next, things always came up missing after we set them down and shadows were seen from the corner of my eye.
Nothing malicious happened to me yet. Everything changed after a near death experience at the age of 13. Things started touching me to the extent of even lying next to me while I slept, things flying across the room, claustrophobia in an empty room and being scratched. On one occasion I walked into a room to see a man in his mid 20s wearing a striped shirt with dirty blonde hair sitting in the corner. As I stepped in the room he raised his head to look at me, I can still see the nothing but normal look on his face. I looked down for a second and looked back up to see if he was still there and he disappeared. I saw him once again many years later after moving into a new house. I always thought my mom's house was just haunted until I moved out 11 years ago. For every apartment and house I moved to, the haunting continue. I have moved 10 times since. It always the same, I start out free and clear, then that uneasy feeling of someone watching you, there are things that wind up missing, I sometimes hear someone talking, I hear my name, then the moving human shadows start. I have even had someone turn the gas on my stove to full blast and fill the entire down stairs. We were very lucky that day. About 2 years ago I moved back to my mom's house and during the second night a ladies whisper woke me up saying hello. I just moved into my husband's apartment in Sacramento in June. He has never had a problem in the past 3 years but yet I'm starting to get that feeling and have just recently seen a solid white mass in the middle of the night. This is when I needed answers and called HPI (Haunted and Paranormal Investigations International).
Paul:
Now, you have experienced the paranormal all your life, can you please elaborate on that.
Jennifer:
After speaking with Paul, we believe I may be a sensitive because of my near death experience and that's the reasoning behind all of my experiences.
Paul:
What is the déjà vu/dream aspect of your experiences?
Jennifer:
I drowned in a Jacuzzi at age 13, and I saw the white light and all. After that I had a full premonition dream of a friend's uncle caught in a fire. That was the moment I realized déjà vu came from dreams. My premonitions are farther and few and more like small pieces in a big dream. I wish I could predict things like the stock market.
Paul:
Here is an off-the-wall, if you have 6 dinner guests, 3 fictional and 3 historic, who would they be?
Jennifer:
Abraham Lincoln, Mary Magdelene, Ronald Reagan, Stewie from Family Guy, Jacob and Edward from Twilight. What girl doesn't like Jacob and Edward?
Paul:
You have some interesting family members. Please elaborate.
Jennifer:
My Great, Great Grandfather was a cattle rancher for Buffalo Bill Cody. I recently found out I have a great aunt who was burned at the stake during the witch trials, we can even trace our lineage to the Pilgrims. Even with an Indian woman a family member Pilgrim wed.
Paul:
This Summer we are going to do a follow-up interview with you, with lots of pictures of you that the readers will be able to see. Where are we taking the pictures at? What was the thing with the flutes??
Jennifer:
The Native American Museum at Johnson's Ranch in Roseville. I wanted to hike on a trail near my home and found this place online. After visiting the museum I walked the trail, the trail is attached to the museum. I was only expecting to see some history but found myself listening to tribal flutes half way down the trail. It only lasted a minute but happened twice. I asked the receptionist before I left if anyone ever reported any unusual noises, like flute noises and when she said no. When she said that, I left it at that. Perhaps Paul is right, I am a sensitive.
Paul:
How can someone contact you?
Jennifer:
Jendanie89118@yahoo.com I'm also on Facebook and Myspace.
Paul:
What movies, TV shows, books do you like?
Jennifer:
I love a good horror movie, no gore! I watch Family Guy, Heroes, Lost, Sons of Anarchy. My favorite book is The Expected One and of course the Twilight series.
Paul:
Tell me about your mom and the ritual that she does.
Jennifer:
My mom has many spiritual beliefs. The night I was scratched she performed a Native American ritual with sage to cleanse my bedroom to hopefully rid my room of any negativity. It worked.
Paul:
Tell us about your travels.
Jennifer:
I haven't done too much traveling but when I do I make sure to visit, haunted sights and ghost towns such as The White Witch Plantation in Jamaica, Chichen Itza in Cancun, Puuhonua O Honaunau National Historic Park in Hawaii, Queen Mary in Long Beach, and Oatman in Arizona.
Paul:
This ends the interview, do you have any words of wisdom for your fans?
Jennifer:
Fans? I get scared sometimes too, but I've learned in my many years that if you tell a spirit to leave you alone or give back what's missing, they usually listen.
Paul Dale Roberts
Article Copyright© Paul Dale Roberts - reproduced with permission.