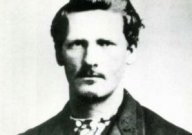 The ghost of Wyatt Earp in Sacramento ?
Posted on Thursday, 24 June, 2010 |

4 comments
Columnist:

Paul Dale Roberts
I got an unusual email from a lady named Yoon Sook Lee. This is her email:
"Hi Paul, my name is Yoon Sook Lee. I live in downtown Sacramento. I enjoy your ghost stories and I have a question for you. I have looked at pictures of Wyatt Earp on the Internet and I truly think I saw the ghost of Wyatt Earp walking around the area of 26 and J. Do you have any idea if Wyatt ever lived or visited Sacramento? The ghost that I saw had a distinct mustache, black cowboy hat and black trenchcoat. I thought he looked very unusual and I couldn't get my eyes off of him. He seemed so out of place. People walking along the sidewalk close to him acted as if they did not see him, but yet I can see him from 200 yards away. What really blew me away is that he walked into a tree and simply vanished!
I recognized his face and the first thing I thought of was..."Wyatt Earp". I started looking at his pictures and I really believe it was him. My girlfriend thinks I saw Black Bart. Note: Black Bart is Charles Earl Bolles. I looked at a photo of Black Bart and I don't think it was him. So, can you please tell me...was Wyatt Earp ever in Sacramento?? Looking forward to your answer."
Paul's answer:
Wow! If you saw Wyatt Earp, lucky you! Wyatt is one of my Wild West heroes! I almost feel bonded with Wyatt, when I visited the OK Corral in Tombstone. As for Wyatt actually residing in Sacramento, there is a story that he stayed with a woman for a couple of days in Sacramento, a woman he was fond of. This woman supposingly lived in downtown Sacramento somewhere. As for the ghost being Black Bart, I seriously doubt it. There is no record indicating Black Bart ever came to Sacramento. There is record of Black Bart in the following counties: Butte, Shasta, Mendocino, Sonoma, Yuba, Siskiyou and Plumas. No record of Sacramento County.
If you encounter this ghost again, please give me the exact location, date and time, so I can do a proper investigation. The ghost that you saw does not particularly have to be Wyatt Earp, it can be a ghost that looks similar to the legend. Of course again, it could have been Leonard Padilla, Bounty Hunter..LOL!
Article Copyright© Paul Dale Roberts - reproduced with permission.