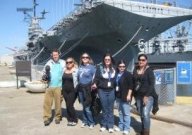 USS Hornet investigation
Posted on Sunday, 15 May, 2011 |

0 comments
Columnist:

Paul Dale Roberts
Judy Raderchak and Regina Tellez of EGPI (Elk Grove Paranormal Investigations) and HPI (Haunted and Paranormal Investigations International) set up this fabulous investigation and brought along myself, Shannon 'Ms. Macabre' McCabe, Bryan Coleman, Jennifer Newell/Psychic and Chantal Apodaca/Psychic.
We were taken into the operations area, battle pressing station where they patch sailors up. There were signs 'authorized personnel only' and 'keep out - docent tours only', but our HPI team was determined to investigate all areas of the ship, may it lead us to areas unknown such as the morgue, the area of the Turn and Burn Unit where a man hung himself in this engine room.
We listened to our tour guide Phil tell us various stories surrounding this historic vessel. Radio silence was observed when enemy subs were around. Rosie the Riveteer women worked on ships like the USS Hornet. I must tell you my own mother Rosita (Rosemarie) Causing - Roberts was a Rosie the Riveteer, except she worked on WWII planes. Here is a shocking story that Phil told us. When a man fell overboard, he was considered as dead. Why? Because the ship kept on its course.
The USS Hornet has fighting capabilities, but it also had the capability of producing 92,000 gallons of drinkable water for the crew mates. In June of 1970, the USS Hornet was decommissioned and now it is a museum that is open to the public.
The USS Hornet has a reputation of being haunted. Ghost Adventures obtained a clear EVP in the USS Hornet and we were in the same area where they obtained that EVP. We were unsuccessful in obtaining an EVP where the Ghost Adventures crew obtained there EVP, but we were successful in other areas of the ship. Special Note: When HPI investigated the Preston Castle for Conversations of a Serial Killer for Two Four Productions in England, Ghost Adventures investigated Preston Castle next, then came Ghost Hunters International and finally Ghost Lab. The producer of Ghost Adventures contacted me when Ghost Adventures investigated the tunnels of Old Sacramento and asked if I could get them into the Martinez House. I couldn't get the Ghost Adventures crew into the Martinez House. The owner Aruso told me after I wrote my article on the Martinez House, that his home is not haunted, even though his neighbors think his home has paranormal activity.
Back to the USS Hornet. It appears that we may have obtained two EVPs. I counted military cadence and one of the EVPs seems to mimic me. Another EVP sounds like it is saying 'hey'. The EVPs will be analyzed further to determine if they are authentic or if we received contamination from outside voices.
Jennifer Newell took some unique orb pictures. One was a very bright orb and the other orb is a designer orb, when enhanced it shows a face. We will again analyze the photos to see if Jennifer actually captured two spiritual containment fields (orbs of a paranormal nature). Jennifer tried to duplicate her photos by having Chantal kick dust into the air and was not able to duplicate the images.
The USS Hornet is truly a maze and you can easily get lost on this ship, but thanks to Phil he guided us through this maze and told some incredible stories of this historic relic of America's days gone past.
God bless America!
Article Copyright© Paul Dale Roberts - reproduced with permission.