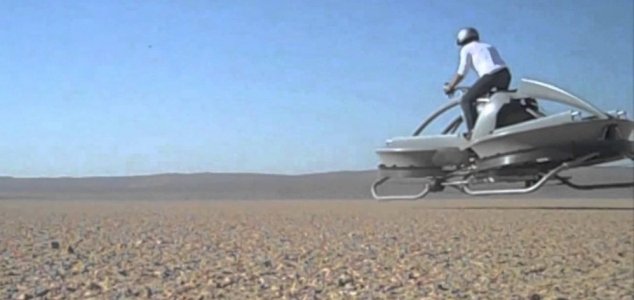 The new bikes won't require a special license to operate.

Image Credit: YouTube / Aerofex
Engineering company Aerofex is set to release its latest creation within as little as three years.
The new bike, known as the Aero-X, had been in the pipeline for some time. Capable of flying at speeds of up to 45mph, the futuristic device is able to hover up to 10ft off the ground and can run for 75 minutes on a single charge.
Likened in concept to the hover bike that Luke Skywalker rode in Return of the Jedi, the Aero-X uses a sophisticated light-weight carbon fiber frame and high-powered fan blades to propel it along.
The company has also been keen to emphasize that, unlike other flying vehicles, the new bike won't require a pilot's license and will be very easy and intuitive for the rider to control.
Upon release the Aero-X is expected to cost around $85,000.
Source: Business Insider | Comments (35)
Tags: Hover Bike