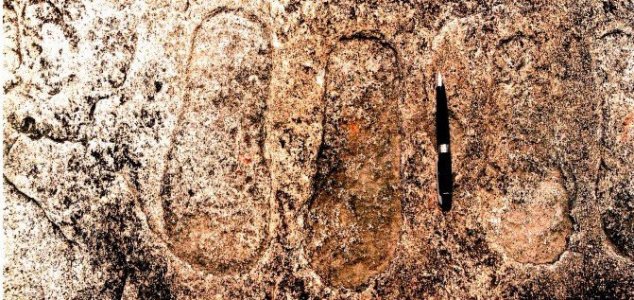 A photo of the strange footprint engravings.

Image Credit: Nitish Priyadarshi
Geologist Nitish Priyadarshi has identified some unusual rock carvings near a small Indian village.
According to local lore, the mysterious footprints represent the location at which the 'sky gods' landed thousands of years ago. Engraved in to pure granite, the prints have the appearance of the type of sandals worn in the region in ancient times and measure between 10 and 11 inches in length.
Perhaps the most interesting point of all however is the presence of an engraved image of what Priyadarshi believes to be a 'flying object'.
"The footprints and the flying object are on the same piece of rock on each other's side," he told the Epoch Times. "Maybe they were engraved to show that the two king gods arrived at the place on a flying object."
The exact age of the engravings is unclear however Priyadarshi believes that the weathering indicates that they are likely to date back thousands of years in accordance with the legend.
"We live in a highly advanced, technical world, but there are nevertheless a great many mysteries all around us," he said.
Source: Epoch Times | Comments (47)
Tags: Ancient Aliens, UFO