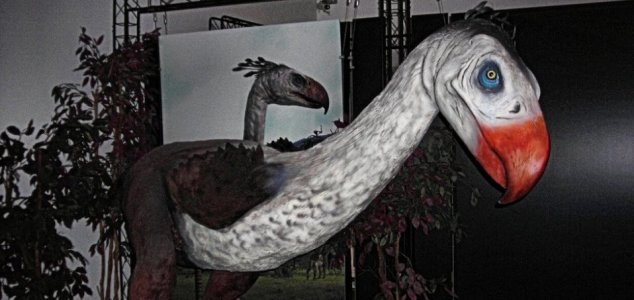 Terror birds at the Horniman Museum, London.

Image Credit: CC 2.0 Jim Linwood
Once thought to have been a vicious predator, the 7ft terror bird was actually a harmless plant-eater.
With an appearance not dissimilar to a large ostrich, the species known as Gastornis sported a large sharp beak and would have lived in what is now Europe approximately 55 to 40 million years ago. Palaeontologists examining fossil remains of the creature originally concluded that its beak and large size would have made it a formidable predator in a world dominated by small mammals.
New clues have come to light however which suggest that this might not have actually been the case. Terror bird footprints appear to show no sign of the razor sharp claws that such a predator would be expected to have while on closer inspection their weight and build would have made it impossible for the birds to chase down fleeing prey.
Another significant indicator was the calcium isotopic composition of the fossilized bones which can help determine if a species is carnivorous or herbivorous. In the case of Gastornis the composition seemed to indicate a herbivorous species.
Researchers are now attempting to piece together exactly what these creatures would have eaten and how they were able to thrive for so long.
Source: Discovery News | Comments (23)
Tags: Terror bird, Prehistoric