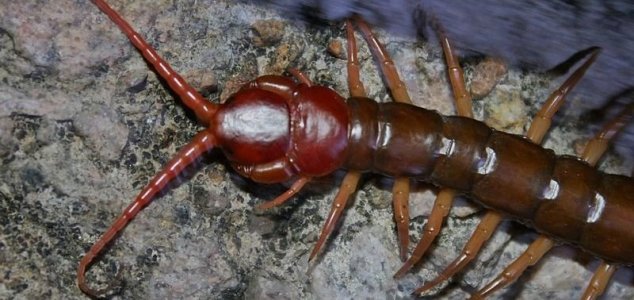 Centipede venom could lead to painkillers as effective as morphine.

Image Credit: CC BY-SA 2.0 Thomas Brown
Centipede venom has been identified as having the potential to provide a number of medicinal benefits.
With their poisonous bite and legions of legs moving in unison as they skitter towards you in the darkness, centipedes have all the right ingredients to be considered the stuff of nightmares. Scientists at the University of Queensland however have focused their attention on these curious arthropods as having significant value in medicinal research.
The venom of the Chinese red-headed centipede contains a special peptide that appears to block a specific channel in a human's pain-sensing nerves. Researchers decided to try to harness this pain blocking mechanism for use in new painkiller medications.
"People without a functioning Nav1.7 channel cannot feel pain, so itís likely molecules that can block this channel will be powerful painkillers," said study author Prof Glenn King. "Our study suggests that centipede venoms, which to date have been largely unstudied, might provide a new source of potential drugs for treating chronic pain and other conditions."
Source: Sci News | Comments (4)
Tags: Centipede, Medicine