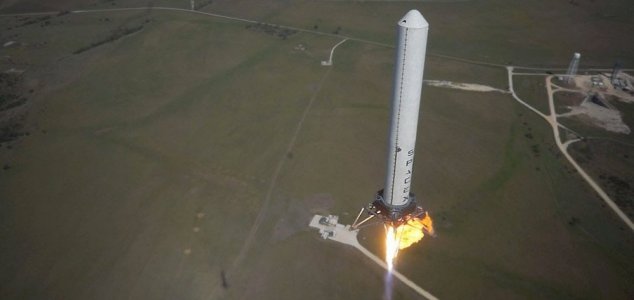 The rocket is able to initiate a controlled descent back to the ground.

Image Credit: SpaceX / YouTube
A remarkable new type of reusable rocket could soon revolutionize how we launch things in to space.
SpaceX's Grasshopper rocket might at first glance appear to be like any other, but what it lacks in visual uniqueness it makes up for in innovation. Unlike conventional chemical rockets, the Grasshopper will be able to launch, deliver its payload and then land again in a vertical position.
In an impressive demonstration flight this week, the rocket took off from SpaceX's test pad in McGregor, Texas and flew to a height of half a mile before returning to the ground in a controlled descent that saw it land on the exact spot from which it had launched.
While conventional first-stage rockets are simply jettisoned and can only be used once, the Grasshopper has the potential to provide a long-term reusable solution that could change the way we put things in to space.
An impressive video of the test flight taken from a remote-controlled hexacopter hovering nearby has been released online and can be viewed below.
Source: YouTube | Comments (14)
Tags: Rocket, SpaceX, Grasshopper