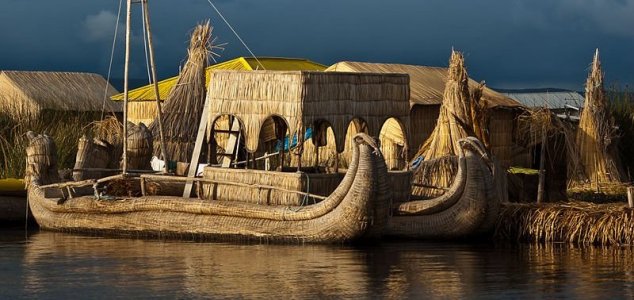 A village on the shores of Lake Titicaca.

Image Credit: CC BY-SA 2.0 World Wide Gifts
Archaeologists have located more than 2,000 individual artifacts beneath the waters of the lake.
The items were found at what is believed to have once been an ancient ceremonial site and include ceramics, gold and gems. Some of the items, including puma heads carved in stone and intricately detailed gold leaf artifacts, are believed to date back over 1,000 years.
The world famous lake is located 12,000ft above sea level and sits on the borders of Bolivia and Peru. Once deemed to be a sacred place by the Incas and Tiwanakus, the lake would have been the site of numerous ceremonies and spiritual practices.
"We have found archaeological material from the Tiwanaku and Inca cultures among objects from the 19th to the 9th century," said project leader Christophe Delaere. In a televised meeting with President Evo Morales, Delaere stated that the artifacts had been found 20ft underwater and that the remains of a pre-Columbian boat had also been identified.
Source: Phys.org | Comments (10)
Tags: Bolivia, Titicaca