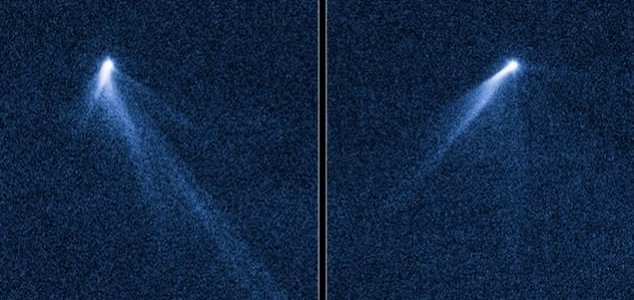 The object is believed to be a 'dying' asteroid.

Image Credit: NASA
The Hubble Space Telescope has photographed an asteroid unlike anything ever seen before.
Described as "weird and freakish", the object designated P/2013 P5 is said to have left astronomers lost for words. With a rotation likened to that of a lawn sprinkler, the asteroid appears to have six tails, the first time such a phenomenon has ever been witnessed.
Originally spotted by the Pan-STARRS survey telescope in Hawaii, the object was observed more closely by the Hubble Space Telescope on September 10th. When the team photographed it again two weeks later however it had completely changed its appearance.
"We were literally dumbfounded when we saw it," said lead project investigator David Jewitt. "Even more amazing, its tail structures change dramatically in just 13 days as it belches out dust. That also caught us by surprise. It's hard to believe we're looking at an asteroid."
Astronomers believe that what is being observed is a 'dying' asteroid that's rotational force will eventually tear it apart, ejecting dust and rock out in to space until there is barely anything left.
Source: Independent | Comments (18)
Tags: Asteroid, Comet